Moving Timeline
Best Movers NYC will help you with a quick guide on setting up your perfect moving timeline!
Moving can be one of the best decisions you can ever make - but the process itself is also quite hectic. Furthermore, performing a move without issues means setting a clear moving timeline and planning far enough ahead. But with so many chores to complete and so many important things to do; determining your priorities can be difficult. With that in mind, Best Movers NYC will help you with a quick guide on setting up your perfect moving timeline!
Pros & Cons
Moving Without a Plan
Unfamiliar movers & potential frauds
Moving delays and issues with staff
Damaged items & unwanted expenses
Moving with the Insight from Best Movers NYC
Registered movers with licenses & reviews
Bonded moving estimates, services & contracts
Your belongings fully protected and cared for
Two Months Before Moving Day
Once you first realize that you're going to be relocating in the near future, you can start with the general planning of your relocation. The first thing that needs to happen over the course of your moving timeline is some basic organization. Make a binder or a folder that will contain all of the paperwork related to the move. You'd be surprised how easily this can pile up and get out of hand.
Then, begin sorting your items. Are you relocating to a smaller home? If so, you'll probably need to put some of your stuff in storage and donate, recycle, or throw away excess things. After that, you can start by researching local moving companies in your area. If you're going to do this right, you'll want to book your movers in advance as soon as possible to avoid scheduling conflicts.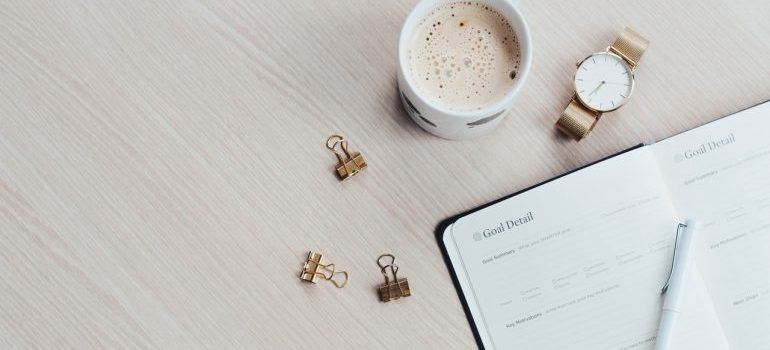 Easy Steps
How It Works
Find, Compare & Choose from the top movers in NYC
1. Input the basic
data about your move
2. Receive a list
of recommended NYC movers
3. Get quotes
from each and compare
4. Make your choice
& enjoy a care-free move
Get Your Instant Moving Quote
Save time and energy by receiving a list of certified and skilled movers that can handle your New York moving needs!
Get Matched with the Best Moving Companies in NYC
A Month Before Moving Day
As moving day draws nearer on your moving timeline; you'll need to start taking care of some more immediate logistics. For instance, you'll have to purchase the proper packing materials; such as wrapping, markers, tape, and cardboard boxes.
Also, if you've decided which of your items you're going to be disposing of; you can organize a garage sale and sell some of the things you're not taking with you. Not only will you lessen your load, but you'll also put a small dent in your overall moving expenses.
For those of you moving with children – this would be a good time to notify the old and the new school of the relocation. Also, you'll need to obtain copies of the kids' school records; ask about the enrollment process near your new house on time. A trip to the doctor for your medical records is also a good idea.
Generally, this is the time when you should finalize your booking with your moving company. If you haven't found the right residential movers by now, decide on a company as soon as possible.
Two Weeks Before Moving Day
Once only a couple of weeks separate you from moving day, you can begin the practical preparations in earnest. This is also the point on your moving timeline when you can begin packing the things you don't use on a day-to-day basis. Also, start canceling all of the various subscriptions and utilities in your current household and move the ones that you're keeping to the new address. 
Testimonials
Sean Riley
2 days ago
I was looking for last-minute movers from NYC to Miami, and this website helped me save so much time! I submitted basic info and before you know it, I had recommendations and quotes in front of me. Choosing a great company was easy and I moved without complications. Would recommend to everyone who doesn't want to waste time searching for movers.
Sandra Jones
2 days ago
Our situation was very complexed because we had to move both our family home and store from Staten Island to Brooklyn and didn't know where to look for reliable and capable movers. Best Movers NYC helped us find a perfect match. We'll use this service again for sure.
Search by Area
Our team is devoted to finding NYC movers that meet the highest criteria of our site visitors.