Commercial Movers Manhattan
Use the reviews of others to complete your business relocation promptly and without issues.
Relocating an office space presents a substantial number of challenges to deal with. In order to suffer minimal downtime and keep your business properly running, hiring commercial movers Manhattan business owners can rely on is the number one task to deal with. Having a skilled and experienced moving company to handle your office equipment and keep the items safe and complete your business relocation promptly and without issues is something Best Movers NYC can help you with. Get in touch with us and find the most suitable moving company to take care of your commercial move today!
Pros & Cons
Moving Without a Plan
Unfamiliar movers & potential frauds
Moving delays and issues with staff
Damaged items & unwanted expenses
Moving with the Insight from Best Movers NYC
Registered movers with licenses & reviews
Bonded moving estimates, services & contracts
Your belongings fully protected and cared for
Hire reliable Manhattan commercial movers by visiting our website
There are numerous tasks and possible setbacks on the road of every commercial move, especially one that needs to be completed to or from a hectic place such as Manhattan. This is why hiring reputable Manhattan moving professionals to handle it for you is the first is one of the first tasks to complete once you decide it is time to relocate your business. In order to help you successfully complete this process, Best Movers NYC offer an encompassing base of commercial moving companies Manhattan businesses have been satisfied with.
Visiting our website and providing the basic detail of your move will enable you to get a list of suitable Manhattan commercial movers who are able to take care of your relocation according to your requirements. By hiring one of the reputable companies from our list of industry professionals, you will be able to relax knowing your business move is in safe hands.
Choose a moving company efficiently and with ease
In just several simple steps, you will be able to get matched with the most suitable commercial movers in Manhattan to tackle all the challenges of moving your business to a new location. Whether you choose to relocate it to, from, or anywhere within Manhattan, our website will offer a perfect match.
Let us know the basic information concerning your commercial move. This will help us create a list of available companies, competent enough to handle your relocation.
After you get your list of matches, you will have a chance to choose the one according to your needs.
Get a free moving estimate; contact and hire the company in accordance with your moving budget and the type of your move.
This level of simplicity and efficiency saves precious time, as well as money. It gives you a chance to focus on other aspects of your relocation and keep your business running in the process.
Whether your business needs to be moved locally or long-distance, Best Movers NYC will offer reputable commercial moving companies in Manhattan to do it for you
Regardless of where you plan to relocate your business to, hiring movers who have enough experience with the specific type of move you are planning is of utmost importance. And Best Movers NYC are ready to provide commercial movers Manhattan business owners have worked with and gladly recommend.
Local Manhattan movers will handle every move within a 100-mile radius. Even if you plan to move only a couple of blocks away, you still need a reliable moving team who will know exactly how to transfer your office equipment and guarantee for its safety.
Long-distance Manhattan movers in our base our experienced professionals who understand the difficulties and challenges of moving long-distance. They will make sure your relocation is completed swiftly and efficiently.
Easy Steps
How It Works
Find, Compare & Choose from the top movers in NYC
1. Input the basic
data about your move
2. Receive a list
of recommended NYC movers
3. Get quotes
from each and compare
4. Make your choice
& enjoy a care-free move
Get Your Instant Moving Quote
Save time and energy by receiving a list of certified and skilled movers that can handle your New York moving needs!
Get Matched with the Best Moving Companies in NYC
Traits to look for in trusted commercial movers in Manhattan
No matter what sort of business you are moving, there is a set of traits commercial moving companies Manhattan-based should offer in order to make it to the list of your final choices. As seasoned industry professionals, our recommendation is to look for:
Accurate moving estimates. You do not want any unpleasant surprises when it comes to the amount of money you have to spend on your move.
Good reviews of previous customers. Our website offers a reviews-based system that lets you read honest client reviews.
Licensed and insured commercial movers in Manhattan. Every trustworthy moving company has proper licenses to operate.
Professional moving gear. Your commercial movers' equipment is just as important as your own office gear. This will enable your movers to safely transfer your items.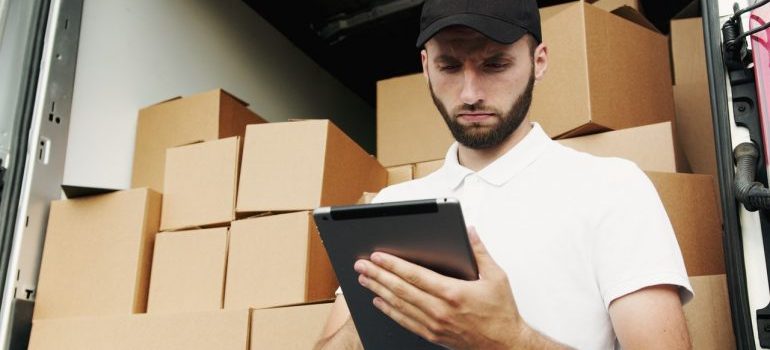 How long does it take to plan a successful and seamless commercial move?
No two businesses are the same – and this goes for their relocations, as well. Is there a way to know how long it takes to get your business ready for the move? Our relocation experts advise as much as one year of preparatory activities. Make sure you understand that all the paperwork, equipment, and documents your office contains need to be properly prepared. Additionally, if you have employees, they should be ready and know about the move in time.
Testimonials
Sean Riley
2 days ago
I was looking for last-minute movers from NYC to Miami, and this website helped me save so much time! I submitted basic info and before you know it, I had recommendations and quotes in front of me. Choosing a great company was easy and I moved without complications. Would recommend to everyone who doesn't want to waste time searching for movers.
Sandra Jones
2 days ago
Our situation was very complexed because we had to move both our family home and store from Staten Island to Brooklyn and didn't know where to look for reliable and capable movers. Best Movers NYC helped us find a perfect match. We'll use this service again for sure.
Contact Best Movers NYC and find the best moving company match for your commercial move
By visiting our website you will be able to choose the most suitable moving company in no time. Get in touch with us today and make sure your business is moved by the finest commercial movers Manhattan has to offer. Keep your equipment safe and your business running by getting free moving quotes from the companies on our list – and hire the moves that suit your requirements the most.
Search by Area
Our team is devoted to finding NYC movers that meet the highest criteria of our site visitors.