Commercial Movers NYC
Our team is devoted to finding commercial movers NYC that meet the highest criteria of our site visitors.
Moving a business can be a pretty challenging undertaking. You need to plan everything in advance, prepare resources, and inform the employees. Most importantly, you need to hire some of the most reliable commercial movers NYC is offering. In order for you to make the right choice, our representatives at Best Movers NYC have prepared a wide range of options to fit your specific needs. Apply for a free moving quote and we will connect you with moving companies that can help you move your business swiftly and with ease.
Pros & Cons
Moving Without a Plan
Unfamiliar movers & potential frauds
Moving delays and issues with staff
Damaged items & unwanted expenses
Moving with the Insight from Best Movers NYC
Registered movers with licenses & reviews
Bonded moving estimates, services & contracts
Your belongings fully protected and cared for
The benefits of letting Best Movers NYC match you with the right commercial movers
If there is one thing in this day and age we don't lack – it's choices. There are many alternatives to choose from, so many options and information to process. And that is exactly the problem. With so many varieties around us and different data on any subject, making the right decision can be very difficult. Best Movers NYC is here to help you avoid being overwhelmed by vast choices.
Our job is to narrow the options according to your needs, so you don't have to waste your precious time researching all of them. When it comes to commercial moving companies NYC is offering, the options are almost limitless. But your time and resources are not. That is why we will recommend reliable and trustworthy NYC commercial moving companies, with plenty of loyal customers that offer just the moving services you need for your business relocation. The facts about our partners:
Moving companies we work with have licenses and genuine moving reviews.
Our partners provide free of charge moving estimates.
All movers will keep your office furniture, machines, electronic equipment, and documents secured, no matter how far you need them to be moved.
Our goal is to make you become one of our numerous satisfied clients and we will do that by making sure you stay within your budget while transferring your professional possessions safely wherever you need them to go. Bring yourself closer to the impeccable moving experience by using the reviews of others to discover the best commercial movers in NYC.
Move your business smoothly in four easy steps
In order for you to get matched with the best either residential or commercial moving companies in NYC, all you have to do is get in touch with our team. Once you insert the basic info about your move, we will process your requirements with due diligence. And then work to find proper commercial movers Manhattan has on offer for you. No matter the distance you are about to conquer, we will send you the list of recommended commercial movers NYC based. After you analyze them, you will get their moving quotes which you will then be able to compare and ask for additional information if necessary. All that is left for you to do is make the final decision, book a moving date, and enjoy a stress-free relocation.
Pick your starting point
We wanted to make this process as convenient as possible for you.  So, we have narrowed the locations based on NYC boroughs of potential movers that can assist you in moving your business. Make sure to pick the location you are at and we will then provide you with suitable companies that can meet your needs:
Note that, no matter which location you are at, the commercial movers we connect you with will fulfill your demands when it comes to necessary services. In case you are moving your home as well as your business, rest assured we will match you with a company that provides complete moving services, both commercial and residential moving.
Easy Steps
How It Works
Find, Compare & Choose from the top movers in NYC
1. Input the basic
data about your move
2. Receive a list
of recommended NYC movers
3. Get quotes
from each and compare
4. Make your choice
& enjoy a care-free move
Get Your Instant Moving Quote
Save time and energy by receiving a list of certified and skilled movers that can handle your New York moving needs!
Get Matched with the Best Moving Companies in NYC
Move promptly across town
We understand that you can't always plan your relocation well in advance. Sometimes the decisions are sudden and urgent and you have to act accordingly. Luckily for you, among our local moving partners, there are many commercial moving companies NYC residents would always recommend for same-day relocations. Whether you are moving your company across the street or within boroughs, the professionals we set you up with will take care of your move with full attention.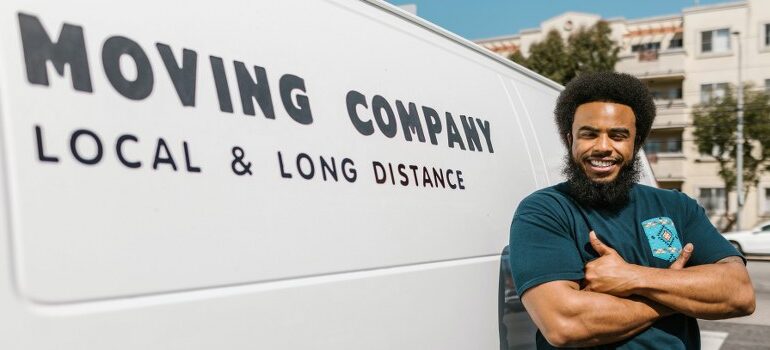 Choose the moving company that provides full-service moving and takes care of every aspect of your business move. Do you prefer doing some things on your own? Then we suggest you opt for the company that provides partial moving services which will facilitate your relocation process. You may also want to look into "area specialists" such as some of the commercial movers Queens has to offer. They might be able to provide you with a better experience.
Let our moving partners help you organize a long-distance commercial move
The further your final destination is, the higher the possibility of complications is. Long-distance moves require meticulous planning and organization in order to avoid problems. As well as interstate relocations. The New Yorks's commercial movers we recommend are experts in executing long-distance relocations with minimal downtime. This is the key to a successful commercial move, of course. That's why we are proud to offer understanding companies that work by that goal.
Whether you are moving your offices, medical practice, salon, studio, fitness center, or any type of commercial warehouse, we got you covered. We will connect you with the NYC commercial movers who have the right means for the job. The office movers Brooklyn has on offer, for example, use modern packing materials, equipment, and moving trucks, so they can provide top-notch services. Is the primary concern security of your belongings? Or the timing? Or maybe the budget? Not to worry, you will get the chance to pick the movers who provide all the above.
Testimonials
Sean Riley
2 days ago
I was looking for last-minute movers from NYC to Miami, and this website helped me save so much time! I submitted basic info and before you know it, I had recommendations and quotes in front of me. Choosing a great company was easy and I moved without complications. Would recommend to everyone who doesn't want to waste time searching for movers.
Sandra Jones
2 days ago
Our situation was very complexed because we had to move both our family home and store from Staten Island to Brooklyn and didn't know where to look for reliable and capable movers. Best Movers NYC helped us find a perfect match. We'll use this service again for sure.
New York business climate
The state of New York is generally referred to be one of the better states to do business in. This is largely due to the fact that the city of New York is an economic powerhouse. With a gross state product of $1,737B, a population of 19.5 million, and a median household income of around $67,150, the state of New York has tremendous business potential. Furthermore, the cost of doing business in the state is actually 2% below the national average. However, that is mostly outside of NYC. If you are moving from NYC to NJ, don't be surprised if there are fewer potential opportunities.
NYC dominates the state's economy and serves as a leading center of banking, media, finance, advertising, as well as publishing. Commercial movers NYC has on offer are top-notch, as well, as they definitely have no shortage of work. That being said, there is still a variety among them, and some companies are better than others. 
Speaking of New York's business climate, however, it is one of the extremes. You can expect to encounter plenty of red tapes. As well as having to deal with egregious taxes and a unionized workforce. But there is a slew of advantages that you can find in this situation. The workforce itself is extremely educated, there are huge VC investments going on, as well as significant recreation and cultural resources. Furthermore, New York serves as the headquarters of almost 10% of the 1,000 largest companies in the entire country.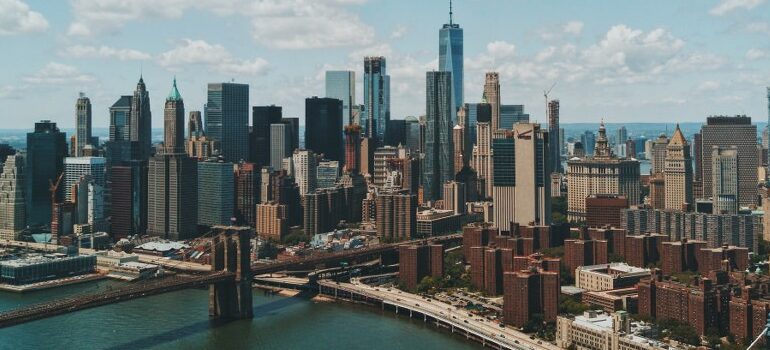 Statistics
If you are looking to relocate your business to another location, you might be interested in knowing more about the overall business opportunities in the state. For example, while the state might not be one of the fastest-developing states, on account of already being significantly developed already, the job growth is still around 1%. The unemployment in the state is below 4%, as well, and a unionized workforce is represented in 22% of the cases.
An interesting fact is that small businesses represent as much as 99.8% of all New York businesses. That clearly indicates that commercial movers NYC has on offer are working day and night. Furthermore, in 2015, 94% of all exporting firms in New York were actually small entrepreneurs. If you are looking to be moving from NYC to California, you may miss out on this very fact. California has a different business climate altogether.
The state also has a very diverse economy. Almost one-quarter of its land is dedicated to agriculture alone. It is no wonder, then, that in 2016 the state ranked 2nd in the entire country when it comes to maple products and apples. It was 3rd in cabbage, milk, and snap beans, 4th in grapes, and 5th in tart cherries and squash. And this is only agriculture. Overall, the state is a haven for small businesses. In fact, small patenting firms report producing 13 times more patents per staff member than large patenting firms in the country. This led to the fact that in 2015 New York ranked third for the number of patents in the entire United States. Thus, most small companies are looking to find one of the commercial movers NYC has on offer and exploit this business climate.
Contact Best Movers NYC and move your business with ease
There is no need for you to interview all commercial movers in NYC when you have us. Get in touch with Best Movers NYC and we will provide you with renowned moving companies that can assist in relocating your enterprise without complications. Get your free moving estimates in one place, read other people's experiences, and make the best choice to satisfy your needs. Save your valuable time by employing the right people for the job.
Search by Area
Our team is devoted to finding NYC movers that meet the highest criteria of our site visitors.